While we should be thinking about student privacy in all settings, online classes present an entirely different set of challenges, given that students are often working from their homesand that they are using technologies that allow them to be viewed and recorded there.
This is particularly challenging this semester, when we are teaching students who did not agree and are not prepared to learn online, and in the next few semesters (at least summer, probably fall), when students may be signing up for an online class but are not doing so in an an exactly free situation, since they have already begun their degrees (that is, started accruing debt) and do not want to quit. Yet, they also don't really want to be online. For these reasons and more, we should use the least invasive kinds of technology.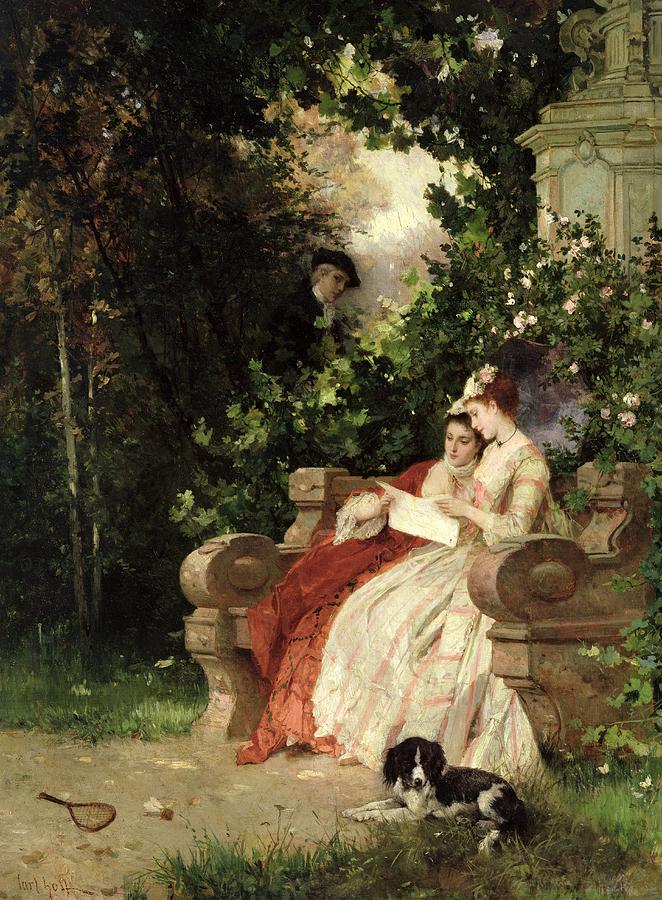 Above, The Eavesdropper (1686) by Carl Heinrich Hoff shows two women sitting on a garden bench, a badminton racquet, a badminton birdie, and a spaniel at their feet. They read a letter together. Behind a wall of ivy, a young man eavesdrops.

You must make all the decisions about privacy before the course begins and must make all  required tech and apps and all risks of their use known to students before class begins. You should not introduce new tech or apps later on in the course because students will be coerced into using them in order to earn credit for the course.
To ensure that students have time to evaluate risks to their privacy, your university may have online "preview days," a period of time when students can step inside your LMS site to see the syllabus and other content on the landing page (like your "Welcome to Class" and "About Your Instructor" videos). Be sure that this information includes a list of all technology that will be required for the class (a webcam, headphones) as well as any apps students will be using. Apps that work within and have been vetted by your LMS are best, in part because your IT department is prepared to help you troubleshoot them. But, for any app that you require, include a link to the company's privacy policy. Be sure that you understand the policy yourself and can explain it. You should be able to explain what data the app collects; how it collects it; how, for how long, and where it stores it; who has access to it; and how it is destroyed. (Here, it might be helpful to think about data being collected about your students as just as worthy of protection as data you collect about research subjects.)
Even if you are only using your LMS, you should explain to students that the LMS tracks when they log in, which links they click, and how long they keep any part of the LMS open. Thus, you can tell if they haven't logged in for a week, if they never opened the video lecture, or if they only spent 5 minutes on the exam.
If your university does not offer "preview days," email your students at least a week before classes start (and again every few days until they do, to be sure to reach students who are adding the class nearer to its start date) with the syllabus; include hyperlinks to the privacy policies of each app you are requiring and to the LMS' privacy policy.
Throughout the semester, you are also responsible for monitoring changes to apps' privacy policies. Again, this is a reason to avoid third-party apps in your LMS class. If you use such an app, then its privacy policies change substantially, will you allow students who were willing to accept the previous risks but  not willing to accept the new ones end their use of the app without penalty?
Students need to offer no reason why they are unwilling to risk violations of their privacy. But, as a reminder, they have ones that you should honor, even if they do not present them to you.
[give_form id="7614″]